I'm something of a color nut.  It's one of the few matters to which I apply skills and attention that take me into the category of Obsessive Compulsive Disorder.  So I put a lot into getting data and samples for this particular WR standard for you all, and here's the current data I have.

Although previously discontinued, Sherwin Williams today carries the four different door colors used at Winding Ridge.  Here are their names, numbers, descriptors, and a portrait of the four color siblings:

Black Forrest (2238);  
Neptune Blue (2399),  
Bordeau (2717)
Expresso (2736) 



The photo above is undoctored and taken in bright sunlight.  But as  you can see, it's hard to tell them apart because some show up in photographs as almost indistinguishably dark. 

To make it easier for us to differentiate, I photo-shopped the sample photo (below) so the relative shades show up more clearly and closer to the actual color the door turns as it fades over time.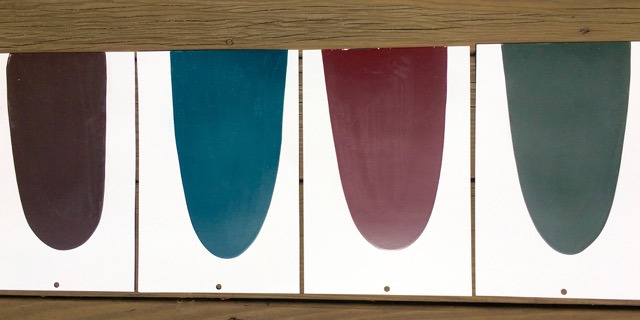 If you're as much of a color freak as I am (25 different shades on my walls) you'll want to walk around looking at the doors themselves and also look at the sample sets themselves.  

If your door looks pretty close to black, it's Black Forrest
If your door is blue-greenish, it's Neptune Blue.
If your door is reddish, it's Bordeaux.  
And if it's the darkest brown, it's Expresso.  

Somewhere in the bowels of Winding Ridge archives, there is probably a door painting plan for the year 1999-2001. Maybe.  But if no one knows where it is, and if your door doesn't stick out as different, no one is likely to be stalking you for accuracy.  And if they can't prove intent to deceive, you're probably safe.  

The nearest Sherwin Williams Paint store is at 350 Tarrytown Road, across from DSW Shoe Warehouse, managed by Anthony, who couldn't be more helpful and obliging.

Their phone number is (914) 644-9900.

Questions:



Can I change my door color?